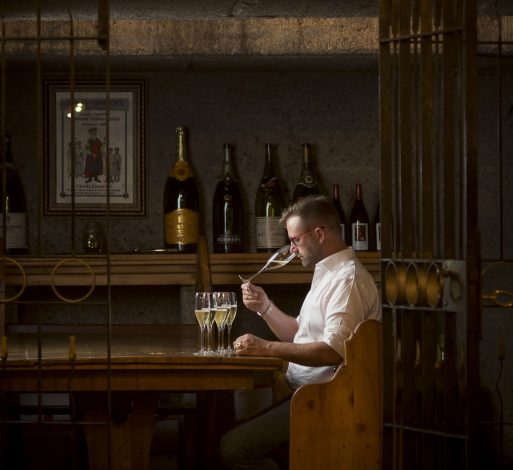 About Haute Cabrière
Our commitment to family, quality and innovation has resulted in a name known as much for the warm and welcoming atmosphere as for the iconic red and white crest of our founding family.
Founded on the values of family, community and sharing, the von Arnim family of Haute Cabrière has been artfully harnessing the unique terroir (sun, soil and vine conditions) of the Franschhoek Valley.
Home of Pierre Jourdan
Our farm was established in the Franschhoek Valley in 1694 by French Huguenot, Pierre Jourdan.
Custom in the Champagne Valley of France dictates that champagne created from the vines of the land is named after the landowner. True to this tradition, founder of Haute Cabrière, Achim von Arnim, named the first range of exceptional Cap Classique wines Pierre Jourdan after the original landowner.
This range remains the perfect ode to the original owner in South Africa's 'French Corner', Franschhoek. Our portfolio has since grown to include two more beloved wine ranges, Haute Cabrière, housing the iconic Chardonnay and Pinot Noir, and our Haute Collection, our maverick collection of site-specific wines.

With roots that extend deep into not only the soils but also the community of Franschhoek, we hope to grow the legacy of Pierre Jourdan in all that we do and be a winery of which our community and valley are exceptionally proud.
Sun

The Franschhoek Valley is surrounded by mountains on three sides and receives late morning and lingering evening sunlight.

This encourages slow and balanced ripening, leading to fruit-forward flavour profiles. A higher than average rainfall and a cooler temperature than neighbouring regions contributes minerality to flavour profiles.

Soil

Our lower lying vines have sandy top layers and alluvial bottom layers, while the higher lying vineyards are rooted in Table Mountain sandstone at different stages of weathering.

Our top vineyards are, therefore, reminiscent of Burgundy and were the inspiration behind specialising in the Chardonnay and Pinot Noir varietals.

Vine

30 hectares are under vine, strategically situated on the eastern and western slopes in the Franschhoek Valley.

Man

Second-generation Cellar Master, Takuan von Arnim, continues to build upon the family legacy and pioneer new wines with the support of an exceptional cellar team.
The Haute Cabriere Restaurant
With arguably the best view overlooking the Franschhoek Wine Valley, dining with us at Haute Cabrière is as beautiful as it is delicious.
As with our approach to wine, our food philosophy centres on moments to be enjoyed together.
We believe that coming together around the table, as family always has, is a celebration of life, stories, togetherness and of course, wonderful food and wine. Our menus are inspired by classic French dishes with a twist – combining local ingredients and the von Arnim family's love of innovation.
Bakery
From freshly baked breads, pastries, jams, and more … The von Arnim family's love of good food and breaking bread together is the inspiration behind our Bakery.
Some recipes are closely guarded von Arnim family secrets that have been handed down from generation to generation, much like their talent for crafting quality South African wines.
"We believe in flaky pastries, sticky fingers and steaming buns, because the calories should always be worth it!"
HILDEGARD VON ARNIM, FOUNDER & PATRON